Valued Cell ENC350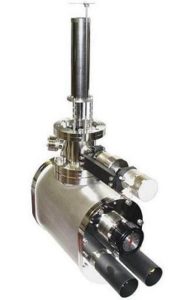 Overview
The needle valve cracker cell is used as an evaporation source of MBE system, and molecular beam is precisely manually-controlled by the needle valve.
(Option: The needle valve can be controlled by a pulse motor.)
Material evaporation zone and cracking zone are completely separated. There is no temperature interference structurally.
Material can be exchanged without removing cracker cell from a customer's vacuum system.
Since the large capacity crucible is 350cc, ingot material can be used as evaporation material.
The cracking zone is made of high temperature melting metal. Outgassing amount is minimal.
Product specifications
Crucible capacity :350cc
Heating temperature:Evaporation source zone:Up to 500℃
Cracking zone :Up to 1300℃
Shutter operation :Pneumatically actuated
Evaporation zone :Water-cooling jacket
---