Manipulator MB-4000LC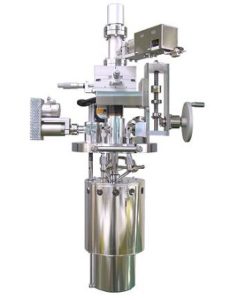 Overview
1. Heating can be possible under the Oxygen gas atmosphere at 50Pa using an infrared lamp heater system.
2. By adopting a water-cooling reflecting mirror, rapid heating up to 800℃ is available. (Up to 800℃ in 2 minutes)
3. A substrate holder is designed to directly contact the water-cooling reflecting mirror. Consequently, cooling performance is superior when temperatures drop, and sample exchange time can be shorten after deposition and its throughput is improved.
(From 800℃ to 100℃ in 30 minutes)
Product specifications
1. Substrate size3" diameter
2. Heater Lamp heater
3. Substrate temperature800oC
4. Movable rangeX-axis:±5mm
Y-axis:±5mm
Z-axis:±10mm
Tilt:±3o
In-plane rotation:360 o
5. Mounting flangeCF253OD
6. Shutter Selectable from manual actuation or pneumatic actuation
---