Valved Radical Cell EVR-2000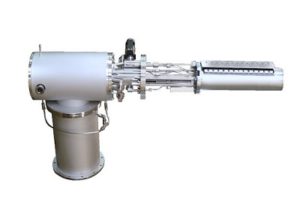 Overview
A new evaporation source used for Se (selenium) has been launched for wide-gap CIS solar cells.
The amount of Selenium evaporation can be reduced to about one-tenth compared to conventional evaporation sources.
The EIKO evaporation sources are available in a variety of models that can be used from laboratory equipment to mass production equipment.
Product specifications
1.Configuration: Material part, valve part, guide pipe part, and cracking part
2.Capacity of material part: 2000 cc
3.Heating temperature (Each part independently-controlled)
Material part:Up to 500oC
Valve part:Up to 500oC
Guide part:Up to 500oC
4.Shutter: Pneumatic operation
5.Mounting flange: 203 mm O.D. CF
6.Power supply for RF: 500W (Auto matching)
7.Mass flow controller: Equipped
---