Rotary/Linear Feed-through MB-8600 and MB-8700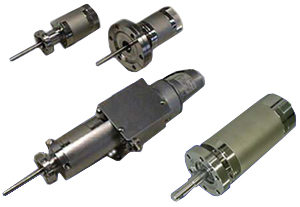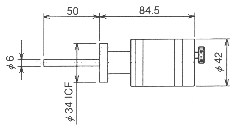 Overview
The rotary feedthrough is a device that transmits rotary motion into a chamber by a non-contact method, and is developed used in ultra-high vacuum environment.
There are three types:
Manual operation type, pneumatic operation type, and electric operation type.
The rotary feedthrough is tailored to idle when the rotating shaft is overloaded, preventing equipment from damaging.
Product specifications
| | | | | | | |
| --- | --- | --- | --- | --- | --- | --- |
| Model | MB-8600 | MB- 8600A | MB-8600M | MB-8700 | MB-8700A | MB-8700H |
| Mounting flange | 34 mm CF | 34 mm CF | 34 mm CF | 70 mm CF | 70 mm CF | 70 mm CF |
| Driving method | Manual | Pneumatic | Electric | Manual | Pneumatic | Electric |
| Rotation angle | 360o | 180o | 360o | 360o | 180o | 360o |
| Drive shaft dia. | 6 mm | 6 mm | 6 mm | 6 mm | 6 mm | 6 mm |
| Max. torque | 0.5 N・.m | 0.5 N・m | 0.5 N・m | 0.5 N・m | 0.5 N・m | 0.5 N・m |
| Withstanding vacuum | 10-9 Pa | 10-9 Pa | 10-9 Pa | 10-9 Pa | 10-9 Pa | 10-9 Pa |
| Bakeable temp.(main body) | 200oC | 200oC | 200oC | 200oC | 200oC | 200oC |
| Bakeable temp.(drive part) | – | 50oC | 50oC | – | 50oC | 50oC |
---