EB Evaporator EB-350T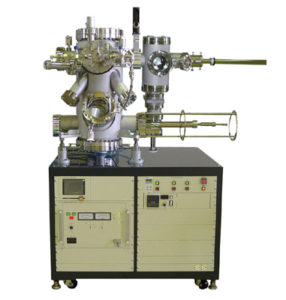 Overview
This system consists of 2 chambers, which are evaporation chamber and load lock chamber.
The substrate revolves for evaporating crucible surface of EB source in the range of &±90℃, and therefore this function enables tilt evaporation.
Although this system is equipped with 5-crucible loaded EB source, it is designed in compact size.
Since installation footprint is 2m x 2m, EB-350T can be installed in the small area.
Product specifications
1. Ultimate vacuum 10-7Pa range (After baking)
2. Chamber dimensions CF305mm dia. x 700mm (H)
3. Substrate holder
Substrate: 2 inch in diameter
Substrate heating temp. : Up to 500ºC
Cooling function equipped (cooled with by LN2)
4. Evaporation
source 5-crucilbe loaded 3kW EB gun Crucible capacity : 5 pieces of 2cc
5. Thickness monitor Rate resolution: 0.1Å
6. Vacuum pumping system Turbomolecular pump and rotary pump Load lock chamber
7. Ultimate vacuum 10-4Pa range
Option
8. Baking System
---