Electron Microscopy Ion Milling System IE-30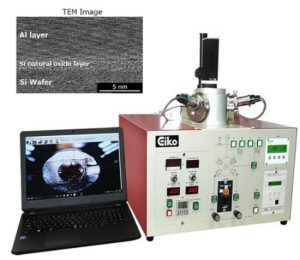 Overview
Apply argon gas to a sample to scrape the surface of the sample. And this system can prepare a sample of observation for TEM.
・The incidence angle of ion beam can be changed between 0° and 10°.
・The image of the CCD camera can be displayed on a PC. Therefore it is easy to confirm sample.
Product specifications
1. Ion source: Penning ion source ×2
2. Accelerating voltage: 0 to 5kV
3. Milling angle: ±10°
4. Sample size: 3mm in diameter
5. Sample rotation: 1 to 6 rpm
6. Ultimate pressure: 6.5 x 10-4 Pa range
7. Dimensions: 610(W) x 620(D) x 655(H) mm
8. Weight: 80 kg (without PC and pump)
9. Input power: AC100V/10A
---