Vacuum Evaporator Gallium Nitride Film Forming System EW-500GN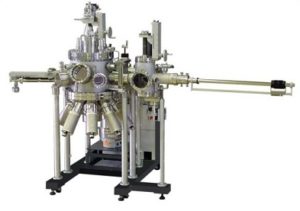 Overview
The EW-500GN is an ultra-high vacuum deposition system for Gallium Nitride (GaN) deposition.
The system can be equipped with up to 8 evaporation sources (K cells) including a source for Gallium, etc. And Nitriding source adopts a radical beam source (with an ion trapper mechanism to enhance radical efficiency).
A water cooling jacket (liquid nitrogen shroud can be selected as an option) is used for cooling the chamber.
Product specifications
1.Ultimate vacuum:
Loadlock chamber: 5 x 10-5Pa
Growth chamber: 7 x 10-8Pa
2.Substrate size: 1 to 3-inch diameter
3.Substrate heating temperature: Up to 1000oC
4.Evaporation sources: Up to 8 K-cells can be equipped.
5.Nitriding source: Equipped with radical beam source (Including RF power supply and supply line for N2 gas)
6.Measuring instruments: Molecular beam flux monitor, vacuum gauge
7.Accessories: Baking system, cooling water supply system
8.Deposition software: Optional
---