Sputtering systems Selective Co-Sputtering System ESC-330W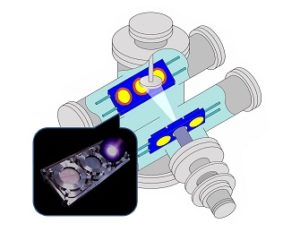 Overview
This system is a sputtering system compatible with UHV.
The greatest feature is that two sputtering cathodes can be used to sputter with up to six types of targets, and nine co-sputtering combinations are possible.
The structure is that one tray on which three targets are mounted is slid to sputter any target.
Co-sputtering is possible by installing a similar mechanism and sputter cathode at the opposite position to the substrate.
*Patent pending
Product specifications
■ Sputter chamber
1.Ultimate vacuum: 1.5×10-6Pa (After bake-out)
2.Target size: 2 to 3-inch diameter (Custom-made: available up to 6-inch diameter)
3.Substrate size: 1 to 2-inch diameter (Custom-made: available up to 6-inch diameter)
4.Substrate heating: Up to 800oC (Optional: up to 1000oC)
5.Pumping: Turbo molecular pump and rotary pump
6.Gas supply: By mass flow controller
■ Loadlock chamber
1.Ultimate vacuum: 1.5×10-6Pa (After bake-out)
2.Pumping: Turbo molecular pump and rotary pump
3.Transfer mechanism: By manually operated transfer rod
---