PXP Coating EPC-1000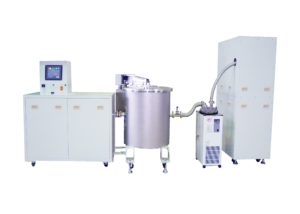 Overview
・High quality polyparaxylene thin film deposition system by CVD method.
・Suitable for various insulating materials (such as gate deposition layer etc.) and sealing in electronic devices.
・According to user's request, batch processing of large numbers of substrates and large-sized substrates can be performed.
・Please feel free to contact us for details via the inquiry form on our website.
Product specifications
1. Ultimate vacuum pressure : 1.0Pa or less
2. Chamber size : About 800 dia. x 800 (H) mm
3. Vaporization furnace : 250oC maximum
4. Pyrolysis furnace : 750oC maximum
5. Cold trap : -80oC
---